Our Grasmere restaurant re-launch with new chef and delicious menu
Lancrigg is a country hotel steeped in history, a place Wordsworth came to visit with his sister Dorothy to muse over poetry inspired by the beauty of its location.
Lancrigg has always been one of the go-to places to eat in Grasmere and the central Lakes, but now with a new menu and head chef, we're relaunching the restaurant to welcome diners to this stunning spot in the national park.
More about Lancrigg
The name "Lancrigg" is from the Norse meaning "Long Crag" and there has probably been a dwelling on the site since ancient times. The oldest part of the house dates back to the 1600s and Wordsworth himself acted as estate agent when Elizabeth Fletcher purchased the property and set about renovating and enlarging it from 1840.
The dining room compliments the historical features of the country house. The restaurant retains its grand fireplace and stunning bay window overlooking the beautiful gardens laid out by Sir John Richardson, the famous Arctic explorer who was a good friend to Charles Darwin.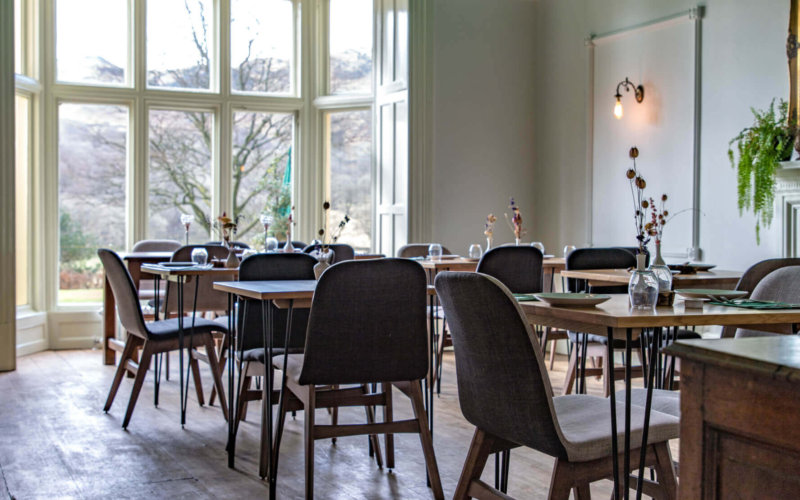 Lancrigg's Re-launch Menu
Lancrigg's relaunched menu has been painstakingly put together by new head chef Mark Batty and boasts a stunning selection of delicious and locally sourced fare. Each dish draws inspiration from the Lake District, and a meal at Lancrigg is the perfect way to relax and unwind after a day walking in the nearby fells or pottering around the delights of Grasmere.
Why not prelude your main with a Breaded Brie sourced from the nearby Eden Valley, complemented by a charred chickory gooseberry conserve? Or sample the delights of pressed belly pork honey-glazed rashers, served with parched peas and spices, with a heritage perry reduction.
If you're tempted to open with something a little lighter on the palette, Lancrigg's pea and wild garlic soup, served with a potato loaf in olive oil, is a vibrant burst of spring flavours; or a baby beetroot salad with smoked fennel jersey royals, finished with a nasturtium vinaigrette to add a hint of peppery perfume, is quite divine.
It's with the main courses that Mark really leads diners on a journey through the Lakes and beyond, with a mouth watering assortment of contemporary takes on favourite dishes.
Mark and his team will cook you a carefully selected 35-day dry aged fillet of sirloin steak done just the way you like it, and serve it with shin beef hotpot au gratin, a Cumbrian pot jus, and baby vegetables.
Or how about a roast Hawkshead lamb chump with scragend barley risotto and asparagus spears. Lancrigg serve this delight with a Jack-o-the-Hedge condiment, which is a deliciously mild garlicky accompaniment, along with sweetbreads flavoured with Old Man Ale, a brew produced in nearby Coniston.
For vegetarian options, Lancrigg's menu offers plenty of sumptuous choice. How about a steamed Inglewhite pudding with celeriac apple and Inglewhite smoked goat curd with garlic colcannon? Or for something to suit the vegan, wrap your tastebuds around a mushroom miso broth with tofu pickled shitake mushrooms, miatake mooli rice noodles and pickled ginger and carrot.
Few leave a Lake District meal without adding some Cumbrian cheeses to finish. Lancrigg will serve you a selection of the finest local cheese with pickled walnut biscuits, fruits and house chutney to accompany.
Or for those who have developed a taste for the Grasmere gingerbread produced in the village since 1854, Mark will serve you ice cream crafted from the famous biscuit with a gluten-free and vegetarian sticky toffee pudding.
Lancrigg boasts a selection of other desserts to tempt even the fullest diners who are wallowing in a post-feast, contended haze. If you're with the family, Lancrigg has a children's menu and the restaurant boasts an extensive wine list.
Visit Lancrigg
Mark and his team would love to welcome you to the Lancrigg restaurant for a really special meal set in a historic location. All the food served at Lancrigg is freshly prepared and the staff will be happy to cater for any dietary requirements.
The Poet's Bar is open throughout the day and offers informal dining with an outdoor terrace. Light bites, traditional pub fare, sandwiches and desserts are available and of course, Lancrigg is open to both guests and non-residents.
Lancrigg has recently undergone significant refurbishment but retains the same quirky charm that regulars will remember fondly. The modernisation and addition of luxury make the country house the prime location for exploring the Lake District. With delightful food available, and stunning walks on offer just up the road, make sure your next stay is with us.