Walk Helm Crag from Lancrigg in Grasmere
Accessible from the hamlet of Lancrigg and visible to all who drive along the A591 from Ambleside to Keswick, the Helm Crag walk from Lancrigg in Grasmere is one of the most popular walks from Grasmere, and rightly so. Its central location provides stunning summit and valley views – it is set on a ridge that boasts no less than 3 Wainrights and it is easily accessible from Lancrigg.
The Lancrigg to Helm Crag walk is a moderate 3km return route, which includes a total height gain of 304 metres and covers some steep, but well marked terrain. A map, compass and appropriate clothing are recommended for this walk, which will take approximately 1.5 hours. At Lancrigg you will find car parking and the prospect of refreshments to enjoy upon your return.
Helm Crag is also known as The Lion and the Lamb in reference to its two distinctive summit rock formations, one small and towered over by the other. Those hoping to ascend the summit rock might need to choose their route carefully as it sits precariously overlooking the A591 on top of a large rock slab and requires some scrambling expertise.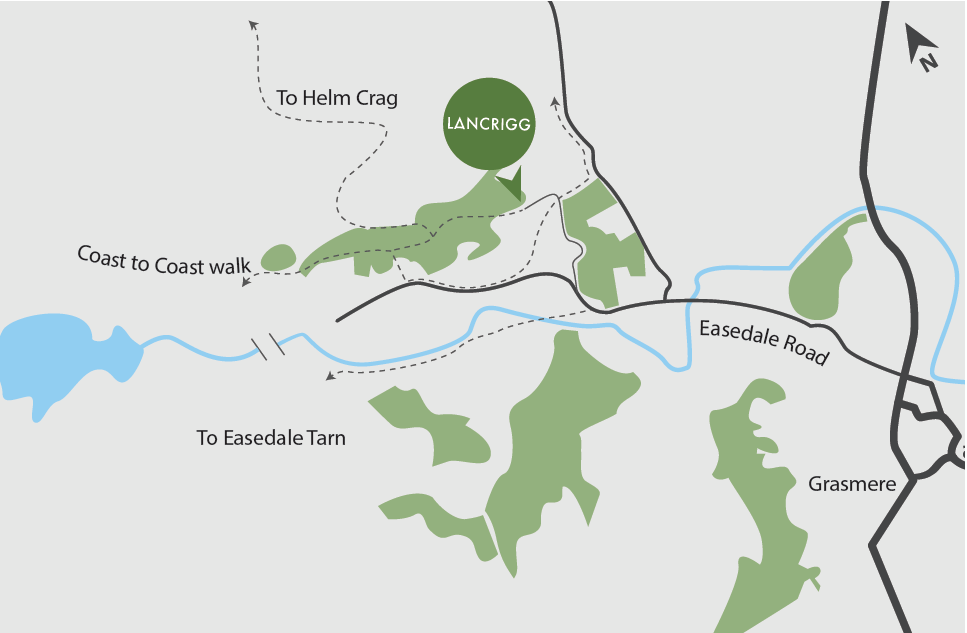 The Helm Crag walk from Lancrigg is delightful and takes you through a variety of landscapes as you pass through the woodland from the Lancrigg grounds and start to climb along the quarry paths towards the summit. As you ascend, the views down to Easedale are well worth stopping to look at, as are the ones from the saddle back towards Grasmere as you reach the ridge. A series of rocky steps take you towards the summit where you are free to explore the rocks, views and the Lion and the Lamb at the summit's southern end.
Take your time over your return to Lancrigg and take in the views in a southerly direction. The Helm Crag walk is an ideal introduction for children to walks from Grasmere and the Lake District, and they will be even more pleased with their efforts when they discover the refreshments and children's play area that await them on their return to Lancrigg.
The Lancrigg Hotel & Poet's Bar
Lancrigg is a country house hotel in Grasmere, The Lake District. Our beautiful hotel is set in 30 acres of mature gardens and woodlands in 'Wordsworth Country', just 1 mile from Grasmere village. The house has a relaxed, informal feel and visitors are made to feel welcome and at home from the moment they arrive.
To view room availability or make an enquiry please click here or contact us.