New Restaurant Menu at Lancrigg
We're going back to our roots as one of the best of the restaurants and places to eat in Grasmere with a brand-new restaurant menu – suitable for vegetarians and meat-eaters alike.
Lancrigg was traditionally a vegetarian restaurant so this is a wonderful and tasty return for us. Our brand-new head chef has lovingly collated the new dishes and we're looking forward to rolling them out as we prepare for Christmas in Grasmere.
On the vegetarian menu are classic dishes like paella – just with a new twist of seitan, peppers, samphire, mushrooms and tofu all closed in a crispy seaweed. We're also proud to introduce a mixed dish of stir-fried rice with bean sprout, mushrooms, tomatoes, seitan and teriyaki sauce.
We've also added a Garden Burger, Spinach Gnocchi and a Lancrigg Country dessert of soya buttered bread baked in cream and dried fruits. That's served with custard. As usual, we continue to be committed to using local produce wherever we can – we're all about quality.
Our Grasmere restaurant also offers a wide range of meals featuring quality meats from delicate seabass to Christmas dinner. New on the menu are delights like roasted pork loin rolled in a slice of bacon and served on a tomato chutney, sliced rump of lamb on a seasoned Bok Choi with pea puree, or a mighty 8oz beef burger in a crispy bun with battered onion rings, served with triple cooked chips (and a choice of mozzarella, goat, Stilton or Cheddar cheese.)
And even if it's only a lighter bite that you're looking for, our extensive menu and facilities have you covered. Our relaxed and informal Poet's Bar also has a revamped menu of culinary treats. Drop by for a tea, coffee or cider and try our creamy garlic mushrooms, tasty sandwiches with Mrs Kirkham's Cheddar cheese or sweet chilli chicken mayonnaise (among others!)
There's also something more substantial on the menu if you're feeling peckish. We're proud to present pan-fried Sea Bass, gourmet steak, venison or pheasant burgers, and sweet treats like a lemon and cherry pannacotta.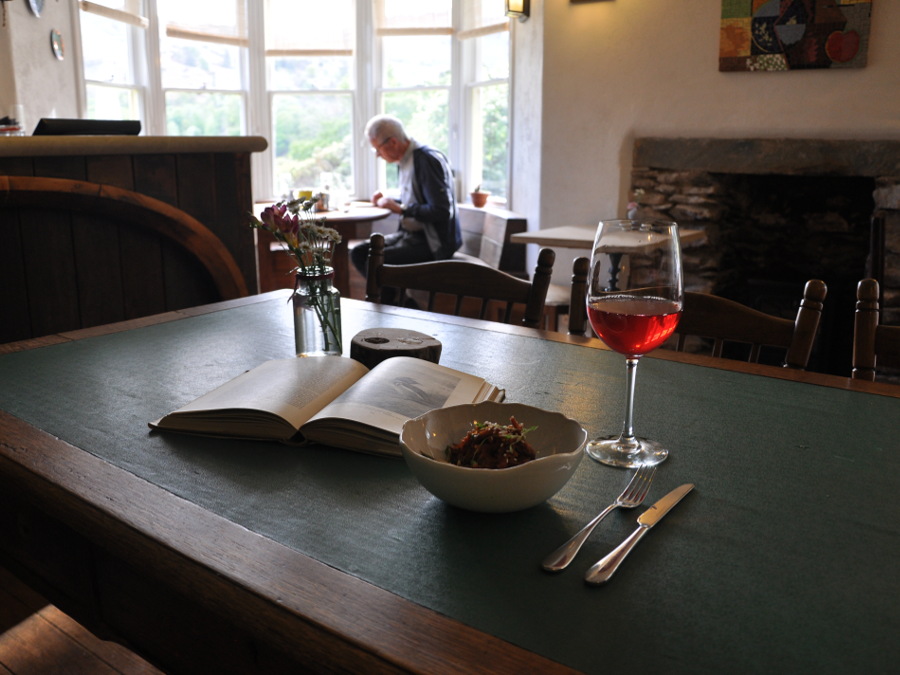 This is only a snippet of the brilliant food we're serving up in Grasmere. So if you're considering a vegetarian feast for a special person, or Christmas in the Lake District, do get in touch. We're waiting to welcome you.
The Lancrigg Hotel
Lancrigg is a country house hotel in Grasmere, The Lake District. Our beautiful hotel and restaurant is set in 30 acres of mature gardens and woodlands in 'Wordsworth Country', just 1 mile from Grasmere village. The house has a relaxed, informal feel and visitors are made to feel welcome and at home from the moment they arrive.
To view room availability and to make a hotel booking click here or contact us.